The first and only contextual AI platform, Quid Discover helps you look at all your customers' data in a totally new way. Millions of raw data points from different channels are organized, connected, and visualized. Creating customer context that lets you see what's next and allows you to deeply understand the conversation and prioritize what matters. Unmet needs are found, trends are uncovered, and strategic decisions are made with unprecedented, efficient clarity.
Trusted by the world's most valuable brands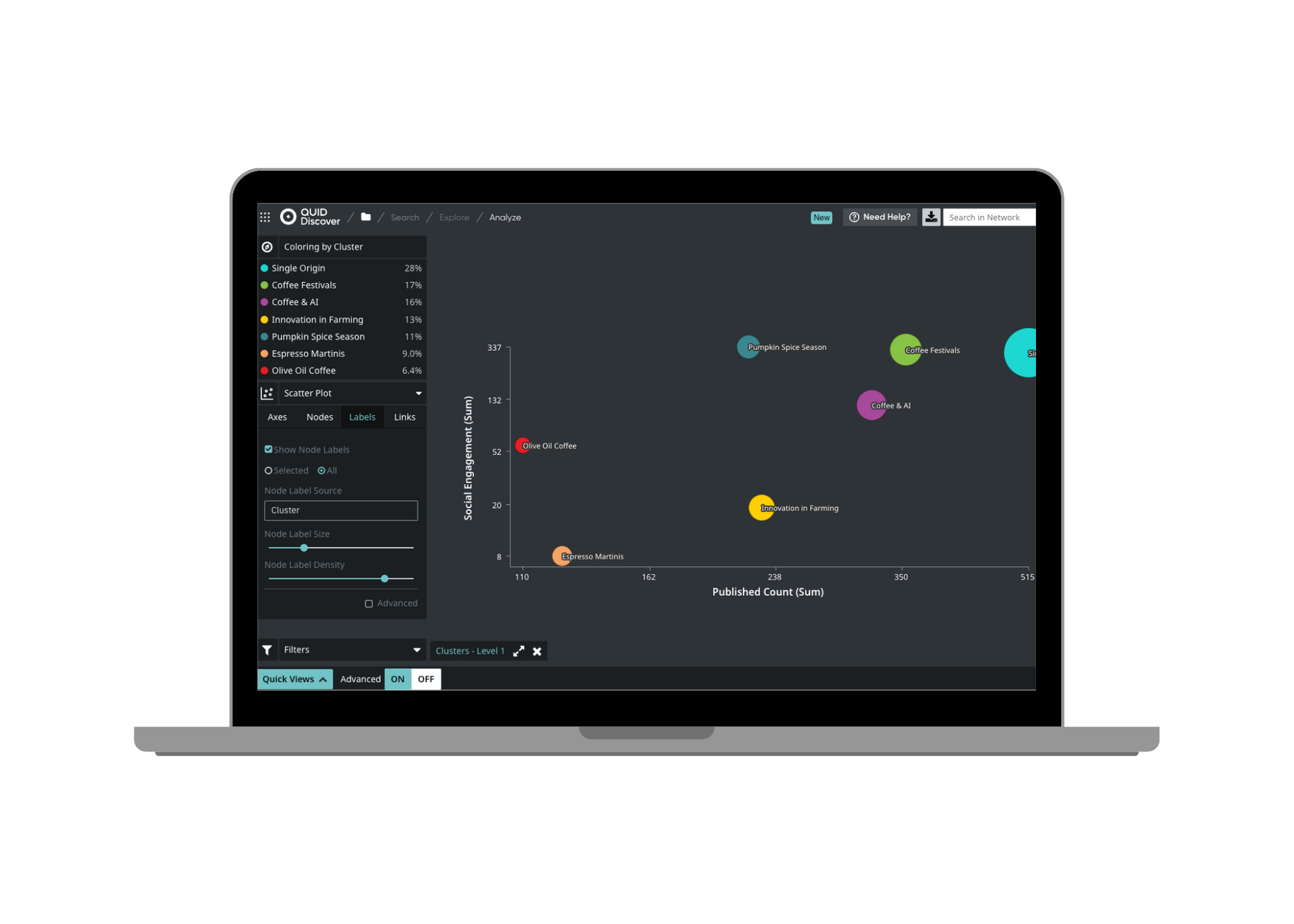 Unstructured data become actionable insights
When faced with so much raw data from so many different sources, it can feel impossible to analyze, connect, and prioritize. That's where Quid Discover comes in. Billions of data points are unraveled and organized to identify the most important themes and insights. No mysteries. No guesswork. Just a clear understanding of your customers and business landscape so you can stay ahead of the competition and make smarter, faster decisions.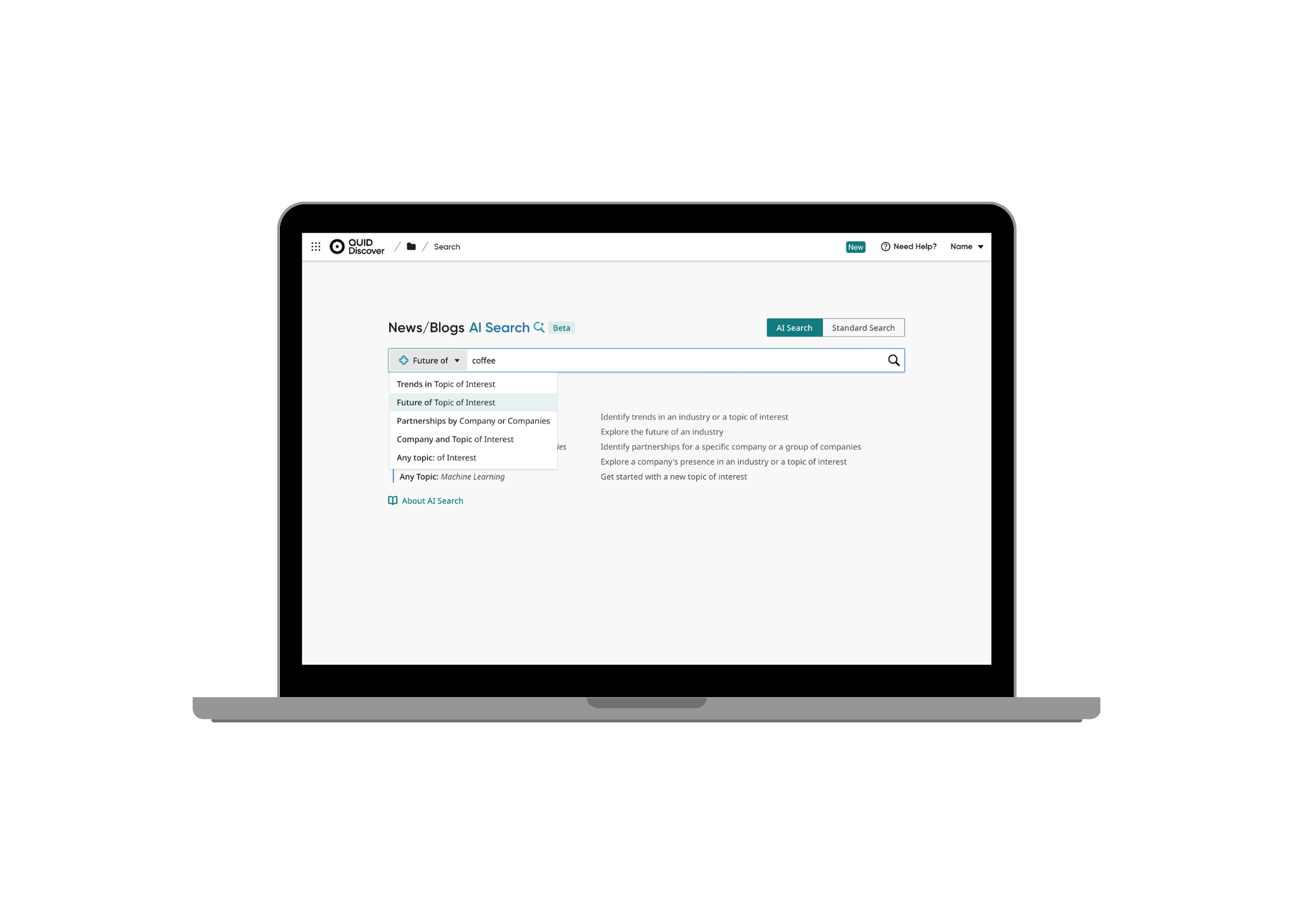 Enhanced productivity with Generative AI
Our unique 'black box to glass box' AI model provides greater transparency and automates repetitive tasks so you can spend more time focusing on how to action insights.
AI search generates a smart set of keywords for your query, saving you time spent on desk research and allowing you to get answers to your questions faster.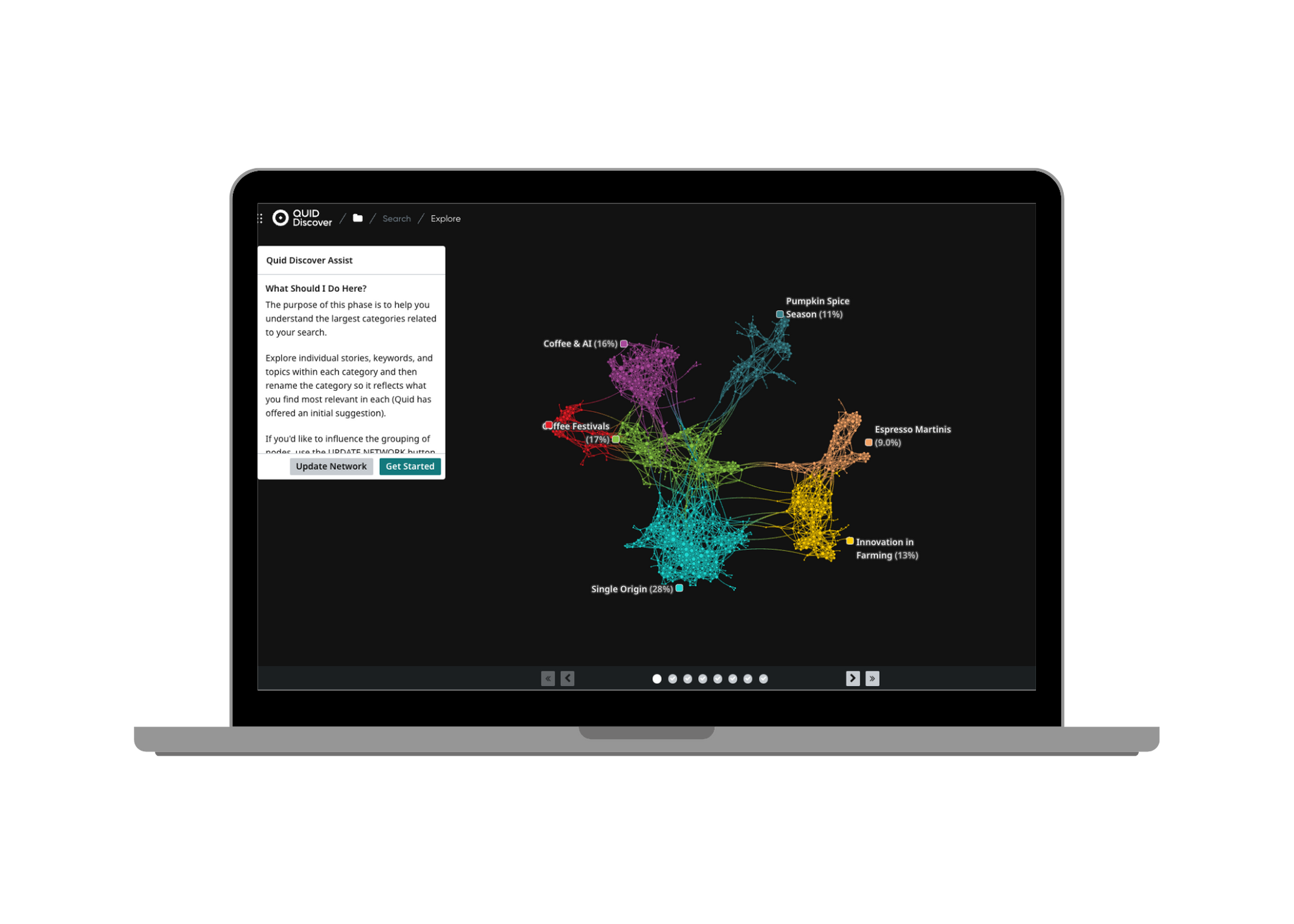 From Bird's Eye to Deep Dive
Customer and market intelligence far beyond the limitations of conventional methods. With full control over each analysis, you can get a bird's eye view of everything in your dataset and then dive deeper into the discussions that interest you most.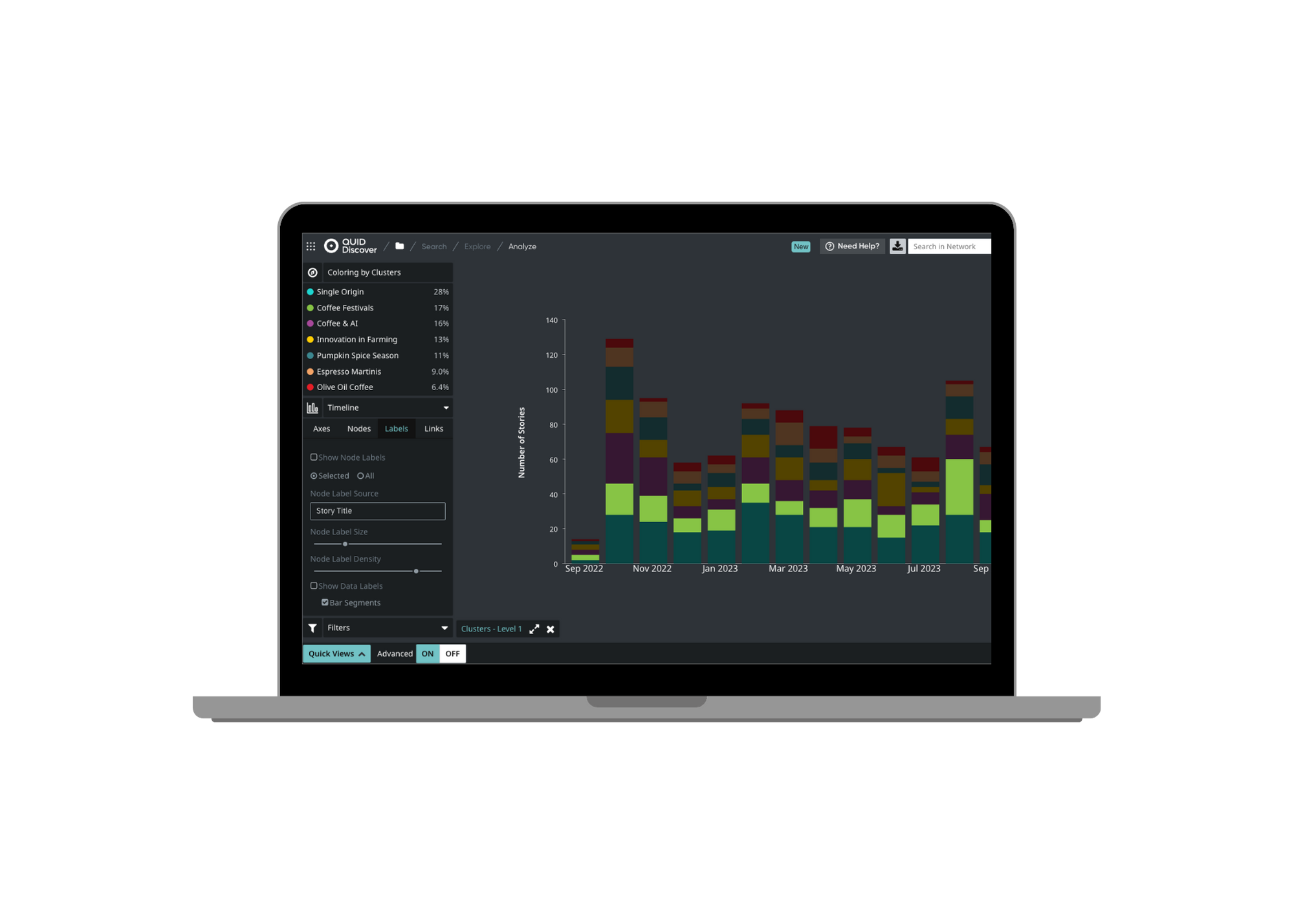 Full Customization
Full ability to customize allows you to dig deeper or fine-tune your results from our built-in data sets, or even your own uploaded data. Curate your analysis by isolating portions of the network, highlighting competitor data, and setting custom filters. And, when you're ready, create exportable data visualizations that illustrate your key findings.
DON'T TAKE OUR WORD FOR IT
See what your peers have to say. From marketing to customer experience, data science, and consumer insights, see what users across industries have to say about Quid.
Powerful Tool For generating insights

Top marks for usability. Setting up topics and sample feeds to get the right data is very easy. I love the dashboard functionality, too, and have used it to build customized reporting for clients. I am a heavy user of the Quid network visualization.

lots of power, even more flexibility

We thoroughly evaluated platforms for measuring and monitoring earned media across social and traditional media channels. Quid checked all the boxes and provided all the core metrics along with a key area that entailed a comparison of brands/products against features and buying criteria.

An exceptional tool to solve client queries

I love using Quid's ability to easily interpret insights from structured and unstructured datasets and display them in visually effortless formats. This helps us gain competitive intelligence, understand the market landscape, analyze media narratives, and gauge consumer sentiment.

An Indispensable Research Tool!

I use Quid like anyone would use Google Search. With Quid, I can quickly ramp up my understanding and knowledge of any topic I'm asked to research by our engineers, designers, and/or business development teams.

AI-Powered Social Listening and Insights Tool

Quid provides valuable assistance in regards to monitoring our brand's reputation in real-time, as well as in comparison to our competitors. This allows us to promptly measure the effectiveness of any campaign we launch and make necessary adjustments accordingly.

Making us look good

The visualizations make us look good to clients- especially when they are the kinds of clients who love getting into the nitty-gritty of the data. The data visualizations help our analysts easily digest the data we have. It moves us from search to cleaning to unpacking to insights much more quickly than other tools.
Product Suite
Using Generative AI, Quid is the only platform that gives a holistic view of your customers' context. Going beyond just capturing data, we look at data through the lens of the future. Smarter than just listening. More intuitive. More insightful. Turning patterns into predictions and predictions into profits. The tools of yesterday will leave you and your business stuck in the past. Because we know, now more than ever, the only way to get ahead is to look ahead.
"What people sometimes fail to understand is that Quid is not a solution for the marketing department or the consumer insights department. Quid is a solution to enable better insights and collaboration for the entire organization."
Who we help
Quid enables you to consolidate customer context efforts across the entire organization.
Marketing

Your Strategic Advantage in Data-Driven Marketing. The platform for end-to-end marketing insights, predictive trend analysis, and data-backed decision-making.

Consumer Insights

Helps you fully understand consumer behaviors to innovate in products, services, or marketing. Keep up to speed with your consumers by collecting live, real time data from across the globe.

Data Science

Get real-time consumer and market data integrated with your business intelligence systems for smarter decision-making.

Customer Experience

Unearth your customers' most important needs and expectations to craft a personalized experience that stands out from the crowd.

Agencies

Illustrate your agency's expertise by quickly developing data-driven pitches, whether it's demonstrating knowledge of a client's business, diving deeper into a market and competitive landscape, or developing a unique marketing strategy.

Communications

Deep Insights and Real-Time Alerts.

Proactively respond to a crisis by being alerted in real time. You can quickly analyze signals from consumers or the market, and understand the impact so you can always have the right response.