We are on a mission to deliver AI-powered consumer and market intelligence, enabling business reinvention in a noisy and unpredictable world.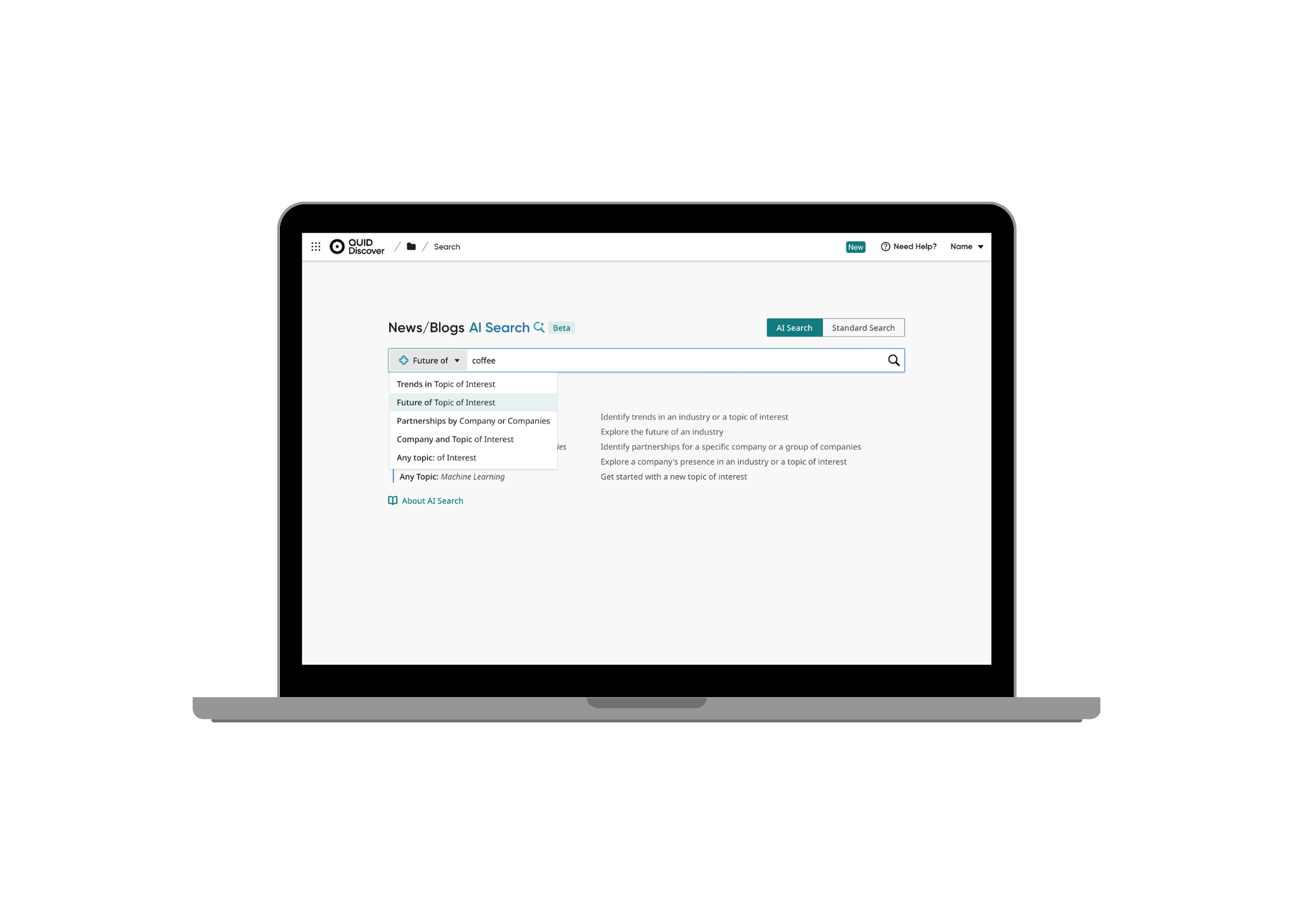 AI-Powered customer context
Our product suite uses advanced artificial intelligence to process billions of indexed resources across all forms of structured and unstructured data, empowering brand, agency, and consulting services customers to make smart, data-driven decisions accurately, quickly, and efficiently.
We are the trusted partner of Ogilvy, T-Mobile, Lufthansa, Yum! Brands, Walmart, Hyundai, Wunderman Thompson, BCG, Gopuff, and Dotdash Meredith.
Leadership Team
Get to know the people behind Quid. Our team comprises seasoned industry executives with over two decades of senior management experience in consumer and market intelligence. With their expertise, they have effectively steered companies through every phase of growth, from humble beginnings to going public, and even acquisition.
Peter Caswell, a Silicon Valley veteran, brings to Quid more than 25 years of experience driving operational excellence, financial discipline and exponential revenue growth throughout technology organizations.

As CEO of Siperian, Peter was responsible for the overall strategic direction, growth and management of the company. He drove the business to operating profitability and grew revenue by seven times in three years before selling to Informatica for more than $130m in January 2010.

Previously Caswell served as the CEO at Enkata Technologies and Advent Software where he grew the business 42 percent per year for nine years and achieved more than $2.5B in market capitalization. He has held executive sales and marketing positions with MSA (a Dun & Bradstreet Software company) and Hogan Systems. Peter holds the equivalent of an MBA in Management Studies and a BA in Agriculture from the Seale Hayne College in the United Kingdom.

Seujan Bertram

Chief Operating Officer

Seujan is Chief Operating Officer and responsible for Account Management, Business Analytics, Customer Success, Customer Experience, Consulting and Professional Services.

She a deep passion for ensuring her customers are wildly successful. She is a strategic and innovative executive with a strong focus on operational excellence and customer success. In her last role at OpenMarket (an Amdocs company), she drove 30%+ YoY revenue growth over three years through strategic planning and hands-on executive leadership and direction, resulting in a successful divestiture and purchase in 2020.

Seujan is a performance-driven culture leader and has extensive experience leading change, growth and transformation at some of the most successful companies in the world. She has built, led and scaled functionally and geographically diverse teams at Starbucks, Tableau and OpenMarket to deliver the highest level of services for customers and employees. She is an executive sponsor and indefatigable advocate for Diversity, Equity & Inclusion. She strongly believes that a diverse and inclusive company culture is a critical foundation for the continued success of any organization.

Seujan has an MBA from Seattle University and has continued as a mentor for their Albers School of Business and Economics graduate student program. Additionally she has an MA in Social Science from Binghamton University and a BA in Education from West Chester University. She recently served on the Board of Directors for the Seattle Credit Union and continues to engage in programs and initiatives to enable a more diverse Board of Directors.

In her spare time, she trains for endurance running events, and she and her wife are currently repeating Basic Manners class with their exuberant rescue pittie mix puppy.

Bob Goodson

President and Founder

Bob Goodson is the President of Quid (formerly NetBase) and was previously the founder and CEO of Quid – a ground-breaking AI company, which merged with NetBase in January 2020.

Bob is a recognized leader and strategist in the design and go-to-market of new technologies: he has advised senior executives at the world's largest retail, semiconductor, consulting, and consumer electronics companies. Before starting Quid, Bob was the first employee and product designer at Yelp (NYSE: YELP).

Bob has spoken at the Annual Meeting in Davos on topics including "Technology for Shared Returns" and "AI for Good". He delivered the keynote speech at the University of Oxford's Augmented Humanity Conference in 2015, called "The 100-Year Revolution in What It Is to Be Human."

Bob Ciccone

EVP, Corporate Development

Bob is EVP of Corporate Development at Quid responsible for strategy, partnerships and M&A. Bob has almost 40 years of experience leading technology companies that serve blue chip enterprise customers. Prior to Quid, Bob served as an Industry Solutions VP at Hewlett-Packard. His other roles included CEO of Cydelity, an online fraud detection solution vendor, EVP and COO of ArcSight, VP at EDS/ATKearney focusing on strategic consulting, and a VP at Oracle leading application solutions and consulting services. Bob started his career as a management consultant with Booz-Allen, delivering business strategies and implementations of major enterprise systems and a systems integrator at Andersen Consulting (now Accenture).

Jessica Collum

Interim CFO

Jessica Collum is the Interim CFO. She is responsible for accounting operations and financial reporting. Jessica is a Certified Public Accountant, and she began her career in public accounting at EY. She has a B.S. and M.S. in Accountancy from UNC Wilmington. Prior to joining Quid, she was the Assistant Controller at Pepsi Bottling Ventures where she led a finance and accounting team of more than 50 people across 17 locations. Jessica lives in North Carolina with her husband and two children where they enjoy spending time outdoors and taking trips to the beach and mountains.

Laurie Pace

SVP of Marketing

Mike D'Aloia

EVP of Sales

Ranjeet Bhatia

SVP, Product Management

Marianne Taudiere

VP, EMEA Account Management

Christin Coan

Senior VP, Legal

Cassie Clayton

VP, Customer Experience

Cassie has 10 years of experience in Customer Success & Data Intelligence. Cassie has a master's in science for Marketing Analytics & Research. She's worked with Quid's largest clients over the years to develop winning strategies in AI driven consumer and market intelligence. Cassie brings a wealth of passion and technical truth to any conversation. Cassie currently leads our Customer Experience team, owning Global Support, Product Delivery, Education, Certification, Engagement and Customer Intelligence. Her hobbies include running, home renovations, partner dancing, and aerial yoga.

Angie Connell

VP, Technical Program Management

Angie is VP of Technical Program Management and is responsible for bridging the gap between Product, Engineering and customers such that customers are wildly successful with new product offerings. Prior to Quid, Angie held leadership roles at Lumen, Tableau, and OpenMarket (an Amdocs company) where she focused on building programs that improved the customer experience. Angie holds a Bachelors in Gender Studies from the University of South Florida and an MBA from Seattle University. She lives on Whidbey Island, outside of Seattle, with her wife and their two young children.

John Tyrrell

SVP, Innovation

Scott Wolk

VP of DevOps & IT

Zachary Mesenbourg

VP, Customer Success

Wendy Shao

VP, Engineering

Taryn Pike

VP, Enterprise Sales
Meet Our Board
Greg Creed

Chairman of the board