KOL Identification: Key Opinion Leaders Brands Should Pay Attention To

KOLs have been in the industry for a good bit of time and have created solid reputations for really knowing their stuff. A nod from a key opinion leader can direct lots of attention – and, so too, can a frown. Key Opinion Leaders (KOLs) are leading voices in a category. They're the names everyone in your industry knows, as they're often quoted in articles found in top tier publications. It's important to be on the love end of that equation!
What is a KOL and Why are They Important?
Understanding who the key opinion leaders (KOLs) are in your category is mission critical intel. KOLs offer immediate and actionable insight that can significantly impact brand awareness and inform strategic campaign planning. And brands can find this intel by exploring market intelligence in Quid®. Here's how!
Capturing Love for Brands with Influencers
Many CPG brands are capturing niche segments with fun, interactive offerings. P&G created the #DistanceDance with a TikTok influencer, encouraging that site's predominantly Gen Z audience to stay home. And Fruity Pebbles is helping parents keep kids occupied, while supporting artists at the same time, with its Daily Yabba Dabba Doo! Selected artists are paid $1,500 for creating short videos showcasing a simple craft: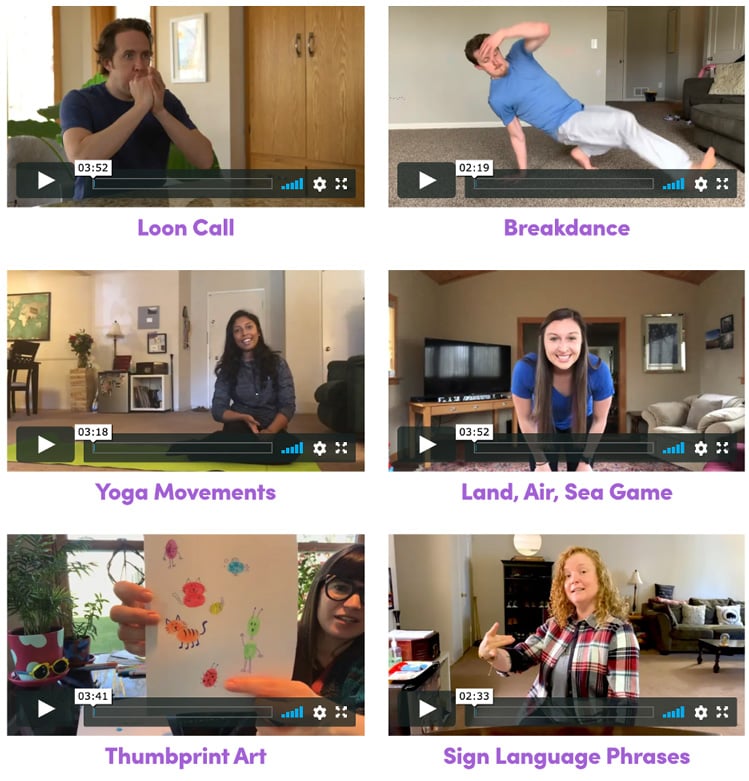 Having the right idea for a brand's specific audience is key here. And we see many taking this direct to consumer (D2C) approach to generate consumer love and awareness. There's nothing about sales here, nor should there be – the connection is what counts. And is what every business needs to consider, else they gloss past the D2C threat.
It's important to note that between 2015 and 2019, $3.3 billion was invested in D2C consumer packaged goods, accounting for nearly 60% of all money invested during that period, according to a Digital Shelf Institute report. Sixty percent. And that number is bound to expand significantly in 2020.
Now let's find those KOLs for you . . .
What Is and What Isn't Resonating in the KOL Conversation
Having the ability to identify key narratives in your space is the difference between success and failure. Using text analysis, visualized for immediate consumption, the conversation clusters below reveal news and blogs central, and vital, to CPG brands: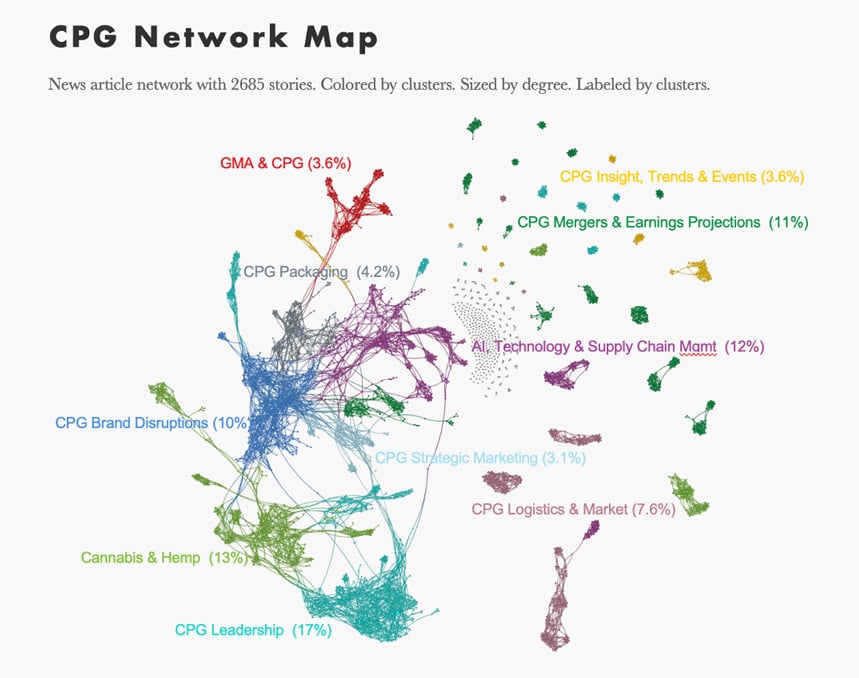 We see CPG Leadership, industry movers and shakers transitioning to (and away from) roles, with Mergers and Earnings Projections sometimes tied to it. And then Cannabis and Hemp, such a popular topic, taking on a life of its own in the industry.
Next is Artificial Intelligence (AI), Technology and Supply Chain Management – and no surprise there, as this is something that will only continue to grow as technology advances with the impending introduction of 5G into our daily lives. AI in its own right is advancing rapidly as well, and brings changes and opportunities to CPG brands daily.
Each cluster is equally informative, even when they aren't focused on something sexy. Sometimes it's the details that can make or break a brand, such as Packaging.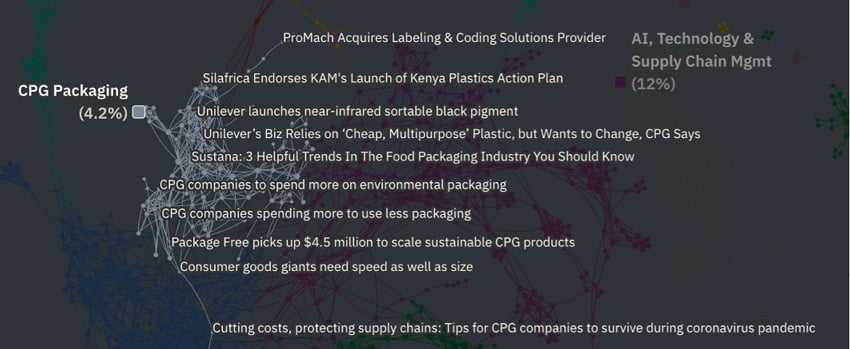 As we explore each corner of the conversation, we do so while understanding that consumers are trusting less of what brands say about themselves, and more what other people are saying about these brands. The age of the influencer, and even more credibly – the key opinion leader, is upon us. And it's important to note that these two consumer-directing forces (KOLs and influencers) are not the same.
KOLs And Influencers Are Not The Same
We know that both are influential online, but how exactly are KOLs and Influencers different?
Many KOLs are industry leaders, quoted and reported in news and blog pieces. They have specific and recognized expertise in a given area, and their "job" is not influence. Their influence is a byproduct of their expertise or skill. You will rarely find a key opinion leader sharing promotional content for a fee, as they would view that as potentially damaging their credibility. KOLs are likely to review things, but not at the behest of a sponsor. Rather, they'd offer an expert opinion to further bolster their standing in whatever community.
Influencers, on the other hand, have worked hard to become influential – and their primary function online is to engage like it's their job (because it is!). Influencers share sponsored content and are often to always paid by said sponsors to share whatever it is they are posting or talking about. They may have a good bit of expertise in a given area, and they may even be recognized in category circles for that expertise – but at the end of the day, their job is influence.
So, brands need to know relevant influencers to collaborate with, and they also need to know who the KOL voices are in their space. And brands must get in front of these KOLs using authentic and consistent networking tactics where they demonstrate their value as information sources the KOL should be aware of.
And before brands can do any of that outreach, they require a solid understanding of who these voices are, how they resonate with readers (and writers) and the volume of conversation they capture. This can all be discovered in Quid.
Identifying KOLs as Primary Mentions
We've already identified (with a broad stroke) the overarching CPG conversation. Using that as our framework, we can filter in the Quid product to see the people being mentioned most in each contextualized cluster: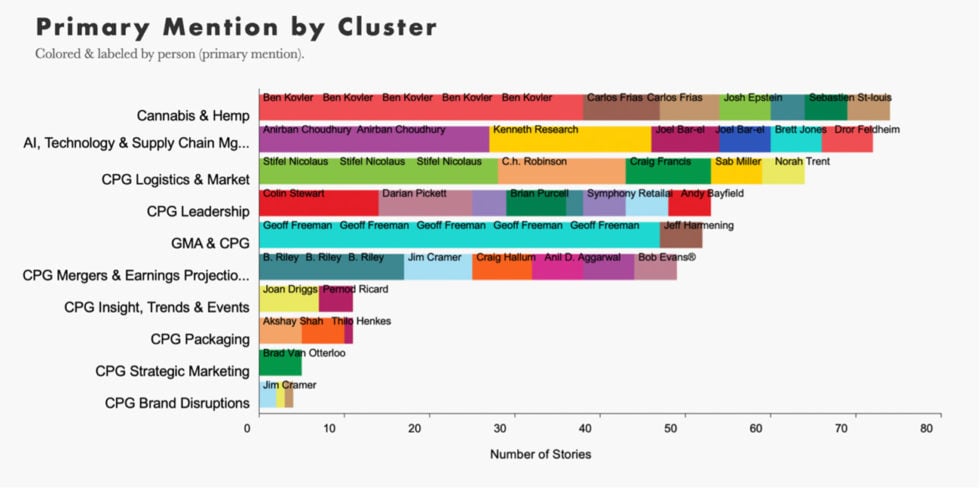 We can also export this insight via a click on a drop-down menu, to more fully capture the data (as there's really so much great info to absorb) and create a pivot table. It's important to note: both while in the Quid product and when using the pivot table (vis .csv download), there are a variety of ways to sort and explore this insight.
One quick, and valuable, snapshot allows brands to see the source outlets and/or tiered publication types where the KOLs are mentioned: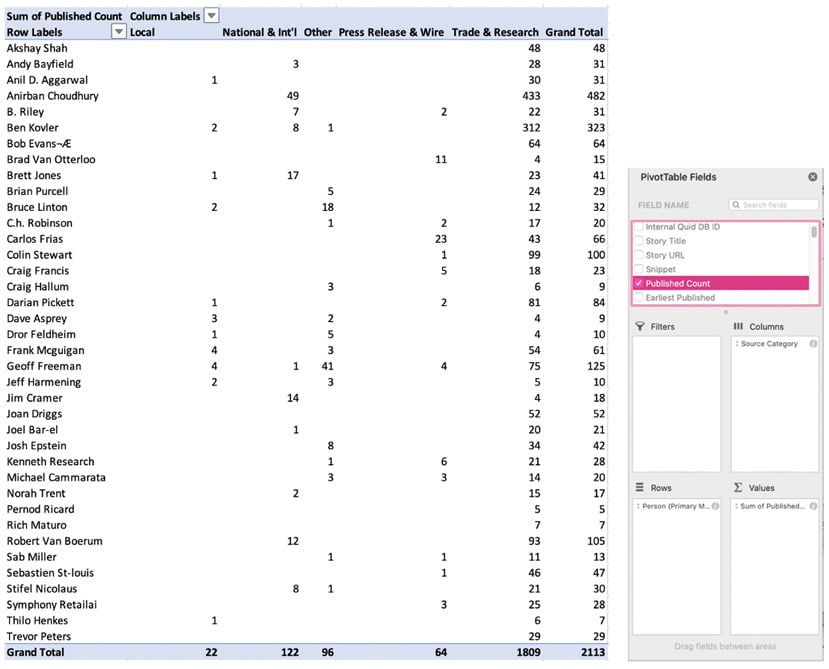 Another Quid product capability is the ability to provide a sentiment snapshot combo of the clusters/primary mentions; one that not only captures how many times stories have been published, but also how often these stories are engaged with by consumers (social engagement axes):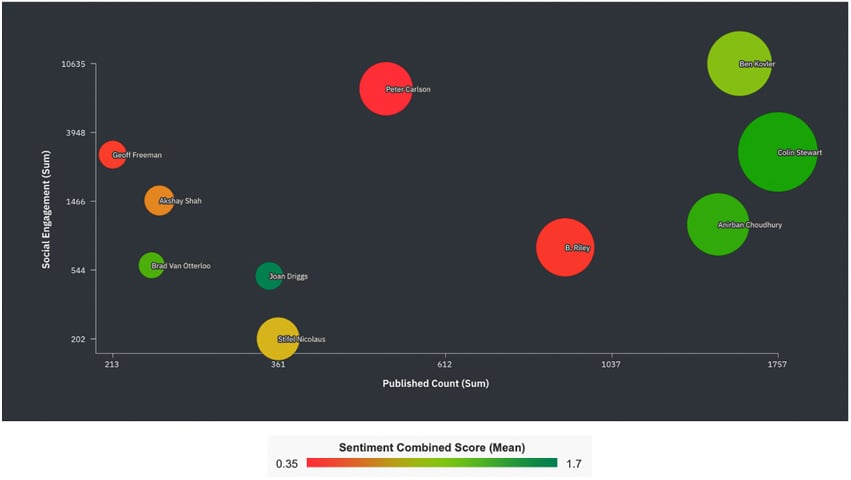 And by clicking through to see what is informing each node (bubble), we can uncover so much more about the category, as well as about the KOL. And we'll share a few highlights around just that, so you can see the extensive intelligence that is readily available to those savvy enough to listen!
KOL Deep Dive into CPG Clusters
Though not at the top of the cluster list, Head of Consumer Brands Association (formerly known as Grocery Manufacturers Association or GMA), Geoff Freeman, has dominated conversation on GMA & CPG is .
Through his marketing experience, he is turning over every stone from packaging to recycling and calling attention to the current broken recycling system. Each state has their own set of "how to's" when it comes to the three R's, and this is creating confusion and frustration among consumers. With Just 9% of recyclable plastics actually being recycled in the United States, according to the U.S. Environmental Protection Agency, CPG sales will soon suffer, he asserts. "Make no mistake, if recycling fails, proposals to ban different types of packaging will increase. [And] while bans are the wrong approach, so, too, is the current situation."
And he not only speaks for the trees, as green solutions have captured the hearts of millennials and Generation Z. As seen in the social engagement cluster above, Geoff's engagement is enviable. Watching and engaging there would be wise.
And "green" throws up smoke signals around a tangentially related top CPG category – Cannabis and Hemp. And also around a lead KOL there – Ben Kovler, founder and Chief Executive Officer of Green Thumb Industries (GTI).
Everything is Green
As more medical research is done, cannabis and hemp are finding favor among consumers desiring to keep things as natural as possible. With disenchantment for conventional medical care growing as fast as weeds, more consumers are looking for healthy and affordable alternatives, paving the way for cannabis and hemp. An innovator in the industry, GTI has 13 manufacturing facilities, and holds licenses for 96 retail locations and operations across 12 U.S. markets. They have taken cannabis from recreational use to beauty and healing, helping solidify its standing as an essential product for over-all health.
There are many voices in the Hemp conversation beyond Ben's, of course. And in the Quid product, we can sort through the specific CPG conversation to capture hemp/cannabis KOLs specifically, and by keyword. The data can be as finely sorted as your brand would like – and it is easily exported/further explored both in Quid and the handy pivot tables mentioned above: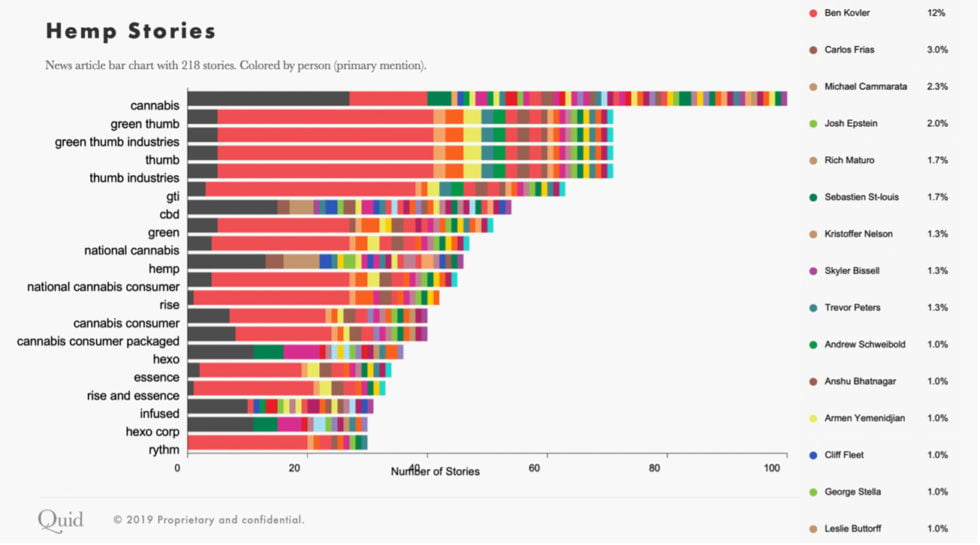 Hemp is also affecting packaging, which is crucial to incorporate in planning as 90% of brands acknowledge that packaging is critical to success. There are two key opinion leaders and packaging experts who would likely agree – Akshay Shah and Thilo Henkes. While Henkes, Managing Director at L.E.K. Consulting and coauthor of the 2019 Brand Owner Packaging Study, focuses on what consumers want in packaging, such as customization and healthier product options, Shah focuses on the green aspect of packaging.
Emerging as a leader in the areas of sustainability and the circular economy movement, Shah is deeply devoted to reducing waste and promoting reuse and recycling in the manufacturing process.
And last but certainly not least, Host of CNBC Mad Money, Jim Cramer isn't one to hide from ugly truths, but he certainly offers key opinion leader insight. When there is a disruption on the market, Jim's voice can trigger investments.
And, as CPGs hope holds true from last year: "When industrial companies begin to falter, money managers usually put their money into the safe, consumer packaged goods sector because those consistent names tend to perform well even when the economy is slowing down." Keeping track of, and incorporating, accepted KOL advice into marketing materials can offer extra oomph, or act as a good reminder, as CPG brands as a whole weather this pandemic.,>
Exploring each cluster, as it relates to your specific search criteria (as it can get as granular as you like) widens your potential and steadies the boat. Knowing who to connect with, who to watch and capturing indicators as they step out in front of these waves for you, enables brands to learn from key opinion leader mistakes, and reap the benefits of their successes. Not knowing when and how to message out to consumers is risky business – good thing that there are folks out there doing a good bit of this legwork for you!
Reach out and we'll show you how to actually be in the right place, at the right time.